Aug 28, 2019

New home for Wine & Viticulture Technology program opens in Michigan

The new Welch Center for Wine & Viticulture on the Benton Harbor, Michigan, Campus of Lake Michigan College (LMC) hosted a public grand opening and dedication ceremony on Aug. 27

The Welch Center is LMC's new $7 million, 14,000-square-foot teaching winery. The facility is designed to provide Wine & Viticulture Technology students with a state-of-the-art environment to gain a hands-on education in the art, science and business of winemaking.

According to a story by Pat Moody of Moody on the Market, just minutes before the over-sized scissors ceremony swinging open the doors onto the new Welch Center for Wine & Viticulture at Lake Michigan College in Benton Harbor, Michigan, St. Julian Winery's John Braganini reflected on the efforts of early pioneers in the industry saying, "Now, we have a formal endorsement of those efforts as this premium education institution born in the heart of our Lake Michigan Shore Appellation has chosen to give us the world class wine and viticulture center. One where we can collectively enhance our efforts to firmly establish this region as one of the great wine producing regions of the world."
Braganini added, "Thanks to the efforts and commitments of the Welch family, and the Lake Michigan College Foundation, we now have the opportunity to recruit and educate winemakers, marketers and growers at a local level. We have the opportunity to staff our local wineries with students who embrace our methods, our styles, and our community."
It was a whole-hearted and ringing endorsement of the collective efforts to bring a world class wine and viticulture program to the Southwest Michigan Wine Trail region.
The new facility on the Napier Campus of Lake Michigan College is already a resounding success. LMC President Trevor Kubatzke told a sizable crowd on hand for the opening, "The Welch Center is a 14,000 square foot, state of the art, facility that gives our students a hands-on education in the art, science and business of winemaking."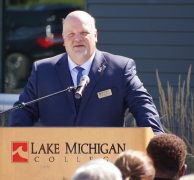 He backed up his comments by explaining, "We often say that this is one of a very few programs where our students go from the very beginning of the chain to the very end of the chain. From trimming and growing grapes, to picking grapes, to crushing grapes and fermenting grapes to bottling and watching the customers drink them. We're here to celebrate the folks who made it possible and Mike & Lisa Welch and Greg & Marian O'Niel gave lead gifts that would make this a reality."
LMC Board Chair Debra Johnson greeted the crowd saying, "It's a great day for a celebration. Welcome to this very special day." She noted, "Today's opening of the Welch Center for Wine & Viticulture has been a long time coming, but we're here.  Lake Michigan College established the Lake Michigan Vintners first commercial teaching winery in 2005 in support of Southwest Michigan's growing wine industry. We broke ground on the Welch Center in May of 2018 and today, August 27th of 2019 we open the doors to this state of the art facility which we believe will make the Lake Michigan College Wine & Viticulture program the envy of the industry."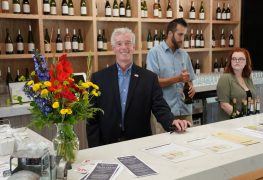 Kubatzke called it, "Not only the opening of a building, but a testament to Lake Michigan College's active role in the community.Five years ago when there was an old barn here, a century barn that was given to the college, Dr. Bob Harrison had a vision. He saw that the industry was growing here and said the college's mission is to provide education to our communities in order to thrive, and decided that this was needed. He took a team up to Walla Walla, Washington and convinced an outstanding Winemaker to relocate from Walla Walla to Southwest Michigan and that Winemaker was Mike Moyer, and we began the journey."
Moyer and his staff of 1 ½ or 2, started the program in two rooms in the Mendel Center, characterized by Kubatzke as "Just two closets but they still made really good wine. Then opening a tasting room in Baroda we could share our wine and experiences with the public. The initial idea that Bob had was to move into the old barn, but after 100 years of Michigan winters, it quickly became evident that that was not going to be possible."
Nevertheless, there was a commitment to preserve the history of that barn and those who toured the property today were shown that the bar front and the tables inside the Welch Center are made from wood recycled from the barn, as are many of the picture frames inside.
John Braganini called it an honor to represent St. Julian and the Michigan Wine industry and thanked Moyer for his great work, and his own great St. Julian winemaker Nancy Oxley and the staff at St. Julian for everything they do.
Braganini added, "Most importantly, we're all here to recognize the generosity and the contributions of the Welch family. As most of you know I had to step up into my brother's shoes a few years ago. It was never my plan to stay beyond my role as trustee, but in the months that followed, I became active in the farm to table community and the role and responsibility that St. Julian played in all of it. So I decided to stay, and commit my efforts to the art we celebrate today."
Braganini says as he became more engaged, he began to appreciate the sacrifices that those before him made in agriculture, innovation and entrepreneurship, calling them, "Men and women of vision, who sought to craft and develop a wine industry in the state of Michigan. Growers who were willing to risk planting new grape varieties, merchants who were willing to promote them, and consumers who were willing to engage the offering." He told the crowd, "My grandfather, father and brother were visionaries. They wanted to make great wine right here and they struggled for years to get it right. Mike & Lisa Welch are also visionaries and I thank them for making this program a reality. As Michigan's oldest and largest winery, we will continue to support Lake Michigan College in its efforts and we look forward to collaborating on any and all opportunities to enhance our collective interests."
Adam McBride had a compelling message for today's wine loving audience, starting out by saying,  "I'm honored to be here and have a chance to share with you a few thoughts as both a Lake Michigan College student and a local winery owner. Almost two years ago I jumped into this industry headfirst when I took over the reins of a small winery called Hickory Creek just a few miles south of here. I get asked almost every day in my tasting room about my journey and why I got into this. I think if you asked most people who get into this full time, their story would be similar to mine in some way."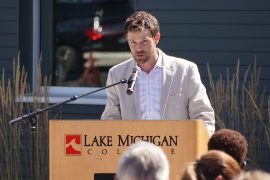 McBride continued his story, saying, "While our journeys are all different, for each of us it started with passion. A passion for an ancient craft that is said to produce one of the most complicated and nuanced liquids ever. But passion can only take you so far. You can have all the passion that you want but without the expertise you can easily invest a lot of money and time turning high quality expensive grapes into law quality vinegar."
McBride admits, "When I say that my winery is small – it is really small, as in I'm the only full time employee. That means I get to wear a lot of hats. I'm the winemaker, geologist, maintenance guy, vineyard and grounds manager, bartender, tasting room host, event planner, warehouse manager, production scheduler, quality control supervisor. I spend more time than I care to admit crawling around inside the tanks with a pressure washer as a cellar rat."
Adam says that winemaking is a complex, physically demanding, and difficult business, "and it feels like there are a million different things going on every single day." He adds, "Based on my experiences in the past couple of years, it became clear to me that no amount of passion will prepare you to successfully manage the ins and outs of running a winery. Even a small boutique one like mine. And that's where education comes in. I didn't come into this industry blindly. I was fortunate to have the opportunity to visit some of the world's great wine regions. I worked side by side with a highly skilled winemaker learning the ropes of harvesting and fermentation first hand."
McBride talked more about his background, noting, "I've had formal wine education from the Wine Academy on the west coast, have pursued my own informal education around the world. I have an MBA, years of operations experience in the corporate world, so I felt confident that I could get into this industry with all that education experience under my belt. But it became clear to me very early on in my very first harvest that I didn't know what I didn't know. When I heard about this program from the college, I thought, 'Why not use some of my GI Bill benefits and take a class?'"
Then, life changed for the young one man show. McBride says, "I realized on my very first day of my very first class that this program was on a higher level than any wine education I'd had before, and it became clear to me that not only would this program be beneficial to me as a new winemaker, it would become absolutely critical to my winery's future success."
His testimony continued, saying, "Now, as I'm nearing completion of my winemaking and viticulture degree here at Lake Michigan College next spring, I can honestly say that nothing has better equipped me for this career than this program. The curriculum has been outstanding. There have been countless times that I have learned something in the class in the morning that I've been able to apply at my winery in the same afternoon. The instruction from talented professors has been world class. I'm confident that moving into this state of the art center will not only enhance the learning environment, I think it will propel this program and our wine region onto the national stage."
Furthering that message, McBride contends, "Lake Michigan College has the opportunity to become for the Lake Michigan Shore AVA, what UC-Davis is to California, what Cornell is to Finger Lakes. I think it's appropriate at this stage of the program to thank those of you who have made this facility possible on behalf of those currently in the program and those who will follow along afterward. The future is already bright for Michigan wine, and with our community investing in our program and in our industry, the future is even better."
Mike and Lisa Welch are no strangers to the LMC family. For more than 16 years Mike & Lisa have volunteered on many LMC Boards and committees from the Winners Circle Auction in 2010, to Lisa's role on the board of Lake Michigan Vintners and Mike's role on the LMC Foundation Board including a stint as Board President. In the Campaign for Tomorrow, Mike played a leadership role in helping raise more than $7-Million for both the wine center and the Hanson Technology Center. In 2011 they established the Mike & Lisa Welch Family Endowed Scholarship, and in 2018 were awarded with LMC's prestigious Bernard Radde Award.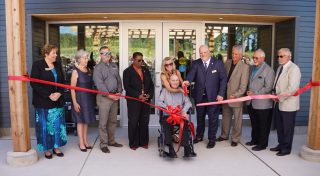 Greg and Marian O'Niel have also been tremendous supporters of the college, and the wine center. Greg served on the LMC Foundation Board, and the Campaign for Tomorrow. He and Marian also chaired the Winners Circle Auction, and also were awarded the Radde Award in 2012 for their many civic and philanthropic efforts.
President Kubatzke also recognized the State of Michigan who provided a $1-M infrastructure grant thanks to the efforts of former State Representative and State Budget Director Al Pscholka.
He also told the crowd, "In 2018 Trustee Jeff Curry organized a campaign to raise the money to honor the Welches with the naming of this building. With a lead gift and tireless support from Dan Para and the Para Family Foundation, along with friends and colleagues from around the nation, he made the opening of this wine center a reality. Thank you to all those who donated."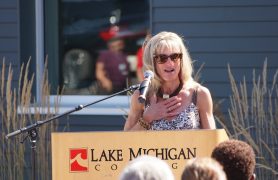 An emotional Lisa Welch spoke on behalf of herself and her husband Mike, telling the audience, "We are overwhelmed and honored over your support for this wonderful facility. When we went to Walla Walla I thought we were just going to get some wine, little did I know we would end up building a wine center in Michigan:" Neverthelss, it happened and as Lisa said today, "It is amazing. We love helping LMC on their boards and committees and love volunteering here. It's just a great place. This beautiful wine center would not be here without the support of all of you. We are eternally grateful."
For more on the project, visit here.