Apr 10, 2019

Precision soils data helps Iowa orchard thrive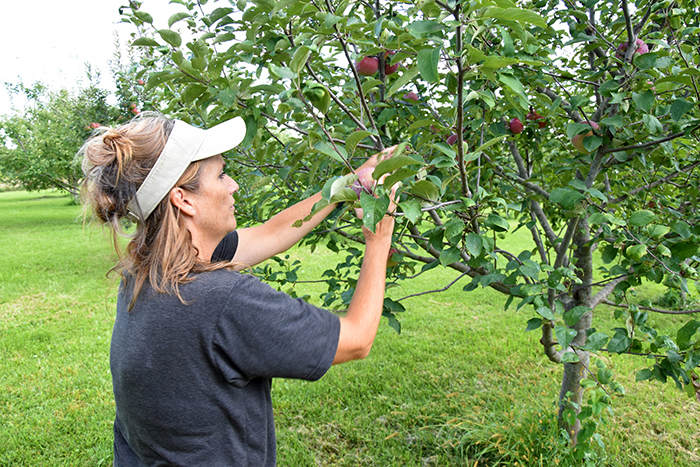 Iowa's Apple Trails Family Orchard is prospering after soils information provided by USDA helped two beginning orchardists start off on the right track.
Darren and Becky Housberg moved to Osceola, Iowa, in 1995. They began making plans for their orchard in 2010. Becky researched apple varieties, and the couple set aside 40 acres of land for their planned orchard.
Becky picks apples from her now 200-tree orchard in Clarke County, Iowa. She got started with help from USDA's Natural Resources Conservation Service.
"Because of the clay content in Iowa soil, it can be difficult to grow some varieties of apples," said Becky. "We had apple trees on our acreage when I was growing up as a kid, so we decided to take a portion of this farm and make it a little apple orchard. After my parents died, this has been part of the grieving process."
NRCS Soils Information
To help find the best orchard location within the 40-acre boundary, Becky contacted local soils experts from USDA's Natural Resources Conservation Service. District Conservationist Dennis Schrodt and Soil Scientist Julie McMichael visited the farm in April 2010 to assess the site. Julie used a soil probe, tested the soils, viewed soil characteristics, then mapped and marked out the best locations to plant trees.
"NRCS soils information was a huge factor for deciding where we located the orchard," said Becky. "You can tell now, just by looking at the trees, where the best soil is. Those trees are huge. They're amazing." Becky says you also can see where rows of trees aren't doing as well. "I planted some trees in areas with poor soils. You can see where the trees begin to taper off," she said. "Julie was right. The soil has an impact on them."
A half bushel of apples picked from Apple Trails Family Orchard. Trees were planted and spaced precisely with consideration for soil characteristics and seasonal harvest time.
Pest and Disease Resistance
While focusing on improving soil health, Becky is growing her trees using all-natural products. "I don't want to be exposed to the harmful chemicals," she said.
"We're not in this venture to get rich. We're not trying to be a big orchard. We just want to provide affordable, chemical-free, healthy foods to this part of southern Iowa."
Becky applies a foliar spray to her trees' leaves and branches to boost tree health and improve her orchard's ability to fight off pests and diseases. She says the spray is working well, but coddling moths – the worms commonly seen in apples – are beginning to find their way into her orchard.
To fight them off Becky uses traps, other beneficial insects, and Bacillus thuringiensis, or Bt, which is allowed for use in organic production and processing. Bt is a bacterium stomach poison for specific pest insects that causes them to stop feeding within hours. It does not harm beneficial insects or humans when used properly.
Becky also uses Kaolin clay, a natural clay used in foods, and products that contain the insecticide Spinosad to keep the coddling moths under control.
"We are out there often spraying the trees," said Becky. "It is harder than I anticipated fighting off all the different diseases that apple trees can succumb to."
Becky grows her apples – and manages against pest and disease – using all-natural products.
Orchard Development
The orchard, which is protected from wild animals with a 10-foot tall fence, has grown to 200 trees with 32 apple varieties. Becky sells them at the local farmer's market in Osceola and at a farm stand. She says only about 40 percent of the trees are producing now, but once more trees produce she will seek out more markets.
Becky and Darren harvest the apples by simply using a basket and a ladder. "We don't sell any apples that have fallen on the ground," she said.
Becky credits much of her success to the advice she received early on about soils.
"The soil is the most important part of growing," she said.
USDA Assistance
For more information about your soils, visit your local service center or check out Web Soil Survey from home.
No matter your location or operation, we're here with resources to help keep your working land healthy and productive.
– Jason Johnson, USDA Natural Resources Conservation Service